Review of the two most popular PAGG Stack Brands
Most people who have started following the 4 hour body diet/slow carb diet are familiar with the PAGG stack advocated by Tim Ferriss in The 4 Hour Body – but I have had some questions about the PAGG stack and supplements from people who are following paleo/Whole30 type diets and those who have asked about slow carb but haven't read the book.
I'm going to use this post to compare and review the two most popular (in my opinion) brands of PAGG stacks on the market right now: PAGG from Pareto Nutrition and PAGG by NewHealthSolutions
So, let's back up briefly and break down the PAGG stack:  PAGG is the abbreviation for 4 supplements that have shown some efficacy in helping with fat loss and with limiting rebound weight gain.  The idea behind the stack is that you take it 4 times/day (at breakfast, at lunch, at dinner, and at bedtime).  Each component serves a purpose and they are:
P – Policosanol: 20-25 mg, used for bodyfat reduction – but studies are inconclusive, this is taken only at bedtime
A – Alpha Lipoic Acid: an antioxidant and is used here to help store digested carbs in the muscle/liver (as glycogen) as opposed to storing as fat, up to 300 mg taken 4 times/day
G – Green Tea Flavonols:  used to inhibit storage of carbs as fat and as a possible protector from rebound weight gain, 325 mg taken 4 times/day (better to find decaffeinated version in case you are sensitive)
G – Garlic Extract: also used to enhance fat loss, 200 mg taken 4 times day
Now, you could go to your local nutrition warehouse store and purchase each of these separately, in which case I think it would be a royal pain in the a** to take all of these pills and figure out the dosages you need and when – OR – you could find a company producing a PAGG stack in a one-serving form.  That is what Pareto and NewHealthSolutions do.
So let's compare the two brands:
PAGG Stack – New Health Solutions: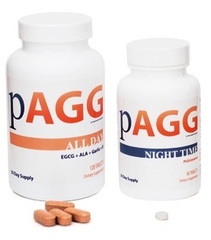 Safety/Accurate dosages – Pharmaceutical Grade GMP*
Affordable - 30 Day supply for right at $60 – is the best deal I've found.
Super Convenient – 1 tablet at each meal, and 1 tablet at bedtime
Tablets – natural tablets – no dyes or colors added
Additional B-Complex - Biotin is added in to account for including a B-complex as recommended in 4HB
When New Health first released their supplement stack – I believe there were some misunderstandings about dosages but they corrected their formulation.
Safe – Pharmaceutical Grade GMP*
(fairly) Affordable – $92 per month with free international delivery for purchase of 2 months or more. Slightly cheaper cost as purchasing everything separate, but with the added convenience.
Super Convenient – again, 1 tablet at each meal, and 1 tablet at bedtime, from a personal perspective – I prefer swallowing capsules to tablets as I feel they are easier to swallow
High Quality – The proper dosages of high quality ingredients
Relevant – they keep their product in line with the recommendations in 4HB – even including the decaffeinated EGCG that Tim Ferriss revealed as a "typo" a few months after the book was published – Pareto was on it and ensured their stack met the recommendations
Additional B-Complex - Biotin is added in to account for including a B-complex as recommended in 4HB
Customer Service – I have had nothing but wonderful customer service in dealing with Pareto – if I email them, I normally hear back (and not a form email) within 24 hours.
Between the two companies it's hard to find things to fault them on.  I do believe Pareto's insistence in going with gel capsules and more expensive formulations leads to the increased cost – but the cost for Pareto's PAGG stack is still fairly affordable (especially when considered against purchasing everything individually).
So, this really is a toss up – the two factors that I could see swaying consumer's decisions would be the cost savings of NHS ($60) vs Pareto ($92) and the preference for natural tablets vs gel capsules.
Personally, I am comfortable recommending both brands, but that being said – I would purchase the Pareto Nutrition PAGG stack.
What do you think?  Sound off in the comments – I'd like to hear your take on this!
*Pharmaceutical Grade GMP: Standard used to manufacturing medicine with no deviations allowed. If the label says 5mg then product must be tested to have 5mg, no more, no less.